Hostels in New Zealand
If you are traveling in New Zealand and would like to meet people or save money, staying in hostels is a great option. Hostels in New Zealand are very good and can be found in all cities and many villages. Many hostels today have private rooms and separate dormitories for men and women. They also often have a shared kitchen where you can cook for yourself, which of course saves money. Personally, I mainly stayed in hostels during my year in New Zealand. Below I share my experiences with you.
There are a few things I always pay attention to when choosing hostels:
Location – Obviously, location matters. I don't like to use public transport so I always make sure my accommodation is within walking distance of the sights. Because I love walking around in new places, there are plenty of options left.
Price – The price is of course also an important aspect. Personally, I don't mind paying a little more if the other factors I mention here are good. But it shouldn't be much more expensive than other accommodation options.
Staff – I think good staff is a must in a hostel, especially when traveling alone. They are the first people you meet when you arrive, they can make you feel welcome right away or not at all. They also usually have the best tips and not only determine the atmosphere upon arrival, but throughout the entire hostel. To get a good idea of ​​this, I look at reviews.
Amenities – I think it's important that a hostel has certain amenities. A large kitchen is important, I don't want to have to wait for hours to get a spot. In addition, I always check if will have a personal reading light, a charger next to my bed, a curtain around the bed (I love it when it's there, but I can also do without) and a safe. Unfortunately not all hostels have a safe, but since I always travel with my laptop, this is a must for me.
Activities – The best thing about staying in hostels is meeting people. That's why I think it's important that a hostel organises activities, because this is the best way to meet people. This can be anything, a hike, dinner together, a game night or even a pub crawl. In smaller hostels with common areas it is also easy to come into contact with others, but in large hostels with gigantic common areas, no one sits next to each other and it is a lot less cozy.
Haka Lodge
The Haka Lodge hostels are my absolute favourites in New Zealand. These hostels are located in Auckland, Paihia (bay of Islands), Taupo, Christchurch and Queenstown. I stayed in all five and even though they are all different, I thought they were all great. Activities are organised in all hostels, they have several common areas and therefore it is easy to meet people. In addition, it is very clean, the beds are wonderful and each bed has its own power socket, reading light, personal curtain and a large storage space that you can lock (this even fits your entire backpack). Except for the hostel in Christchurch, they are all situated in very good locations from where you can explore the area on foot. The staff are also very friendly and helpful, especially when I arrived fresh in Auckland. Because many travellers start their journey in Auckland, they hold a weekly information evening about traveling in New Zealand.
Book your stay at Haka Lodge
Paradiso Backpackers – Nelson
The Paradisco Backpacker hostel in Nelson is one of my favourites in New Zealand. This hostel is nicely located and offers a lot of activities. In the garden alone they have a swimming pool, hot tub, sauna, volleyball court, ping pong tables and BBQs. But if you want to relax, there is also a lot of space in the garden. The rooms are equipped with private sockets and reading lamps at each bed and almost all rooms have a private bathroom. In addition, they offer a full free breakfast and even free soup every night. But the best thing about this hostel was the bed, this is the best bed I've ever had in a hostel! I don't know if I was lucky or if they are all so amazing, but I still talk about this amazing bed frequently ?
Book your stay at Paradiso Backpackers
Need help planning your dream holiday?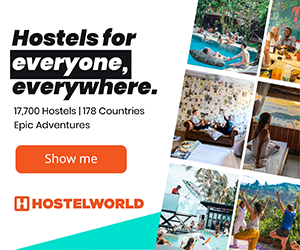 Nomads – Queenstown
The Nomads hostel in Queenstown is one of the best. This hostel has everything you could possibly need, a large clean kitchen, lounge with fireplace, pool table and football table, sauna and ski storage. They have many different rooms, small and large dormitories, several private rooms, with or without private bathroom and with or without balcony. All dorms have lockers. Free breakfast is included (toast with jam) and they also offer free dinner, this is not much and you have to get there early, but it certainly saves some money. But the best thing about this hostel is the activities, they offer at least one activity every day. Also the location is great, right in the center of Queenstown and close to everything.
Book your stay at Nomads - Queenstown
YHA hostels
YHA is a large chain with hostels all over the world, including many places in New Zealand. You can often find a YHA hostel even in remote places. I have stayed in many of their hostels and even though they are fine hostels, I miss the social contact. The staff are less willing to help and you are less likely to meet people (this is certainly not in all of their hostels but, in my opinion, in the majority of them). The beds are also less comfortable and you do not have as much privacy as, for example, at the Haka Lodge hostels. But they are still clean hostels, with large kitchens and they are often in good locations. If you do not have much need for social contact or if you do not travel alone, this is certainly a good option!
Book your stay at YHA
BBH hostels
BBH is a network of backpacker hostels in New Zealand. In this network you will find smaller local hostels with a more personal atmosphere. You will not find chains like YHA in this network. Many young people who are in New Zealand with a Working Holiday visa choose to take a BBH club card. This is valid for one year and gives you a discount in all BBH hostels and on the Interislander ferry between the North and South Island.
Book your stay at BBH
Booking hostels
Generally I book my hostels through Hostelword, many hostels are affiliated with this, you can read reviews, view photos and the facilities are clearly listed. I have also found that Hostelworld usually offers the lowest prices. I always compare the prices with those of booking.com, because the prices can differ. If you have an account with booking.com, you can also sometimes get benefits from this. On booking.com you can also read reviews, view photos and clearly find the facilities.
If you are looking for hotels, resorts, apartments or B&Bs, I always go to booking.com. I use the Campermate app for campsites in New Zealand. Of course there are also many Airbnb options in New Zealand.